Jerry Schalupa
November 14, 1984
Jerry Schalupa, 72, of Taylor died November 10 at a Taylor nursing home.
Funeral services were held at 2 p.m. Monday at the Condra Funeral Home in Taylor with the Reverend Robert G. Letalien officiating. Burial was in the Taylor City Cemetery.
He was brn November 9, 1912, in the Beyersville Community. He was a retired farmer and a painter. He was a member of the St. Paul Lutheran Church in Taylor and the SPJST Lodge.
Survivors include two sisters, Bessie Isensee and Lille Mae Tieman, bot of Taylor; two brothers, Fred Schalupa of Taylor, and Tony Schalupa of Riverside, California; and several nieces and nephews.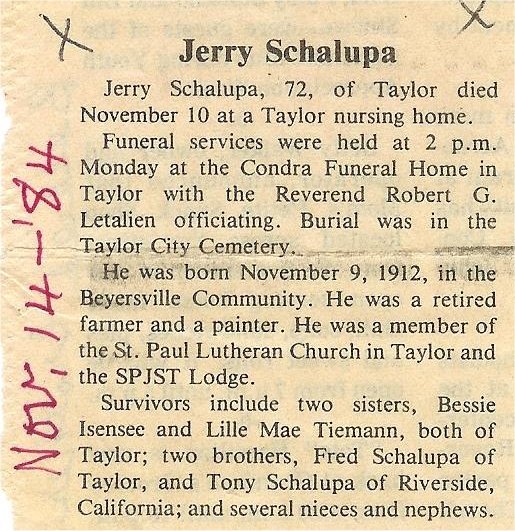 ---