Selma Schwausch
Selma Schwausch, 90, of Round Rock died January 6 in the Trinity Lutheran Nursing Home in Round Rock.
Funeral services were held January 9 in Zion Lutheran Church in Walburg. Pastor Lowell Rossow and Pastor Duane Florschuetz officiated.
Burial was in Zion Lutheran Church Cemetery. Emil Wenzil, Harold Boriack, Raymond Pillack, Edmund Mersiosky, George Schwausch and Gilbert Pillack served as pallbearers. Davis Funeral Home handled the arrangements.
Schwausch, the daughter of Ernest Mersiosky and Anna Jakobik, was born January 24, 1898 in Serbin. She was married to Oscar Schwausch, who preceeded her in death February 2, 1972. A member of the Zion Lutheran Church, she was a ladies aide there. She was a homemaker.
Survivors include a son, Walter Schwausch and daughter-in-law Julia, of Georgetown; a daughter, Helen Hartman and son-inlaw Paul, of Deer Park; three sisters, Louise Boriack of Pasadena, Ruth Boriack of Jarrell and Edna Boriack of The Grove; three grandsons; and a granddaughter.
In addition to her husband, she was preceded in death by a daughter, a son, three sisters and three brothers.
Memorial contributions may be made to the Zion Lutheran Church Building Fund.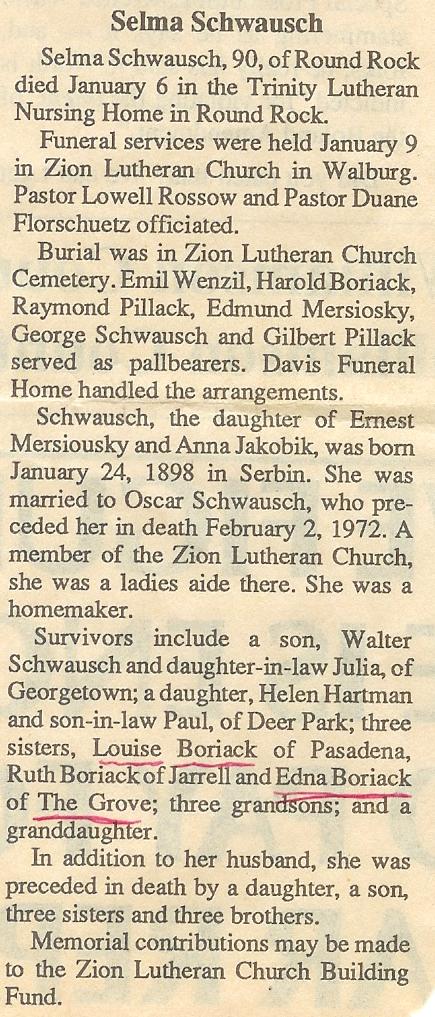 ---